Christmas Fat Quarter Projects
If you haven't used your fat quarters yet to make something fabulously festive I've got a few ideas for you here. If you have used them, post some pictures and show us all. Let's inspire each other.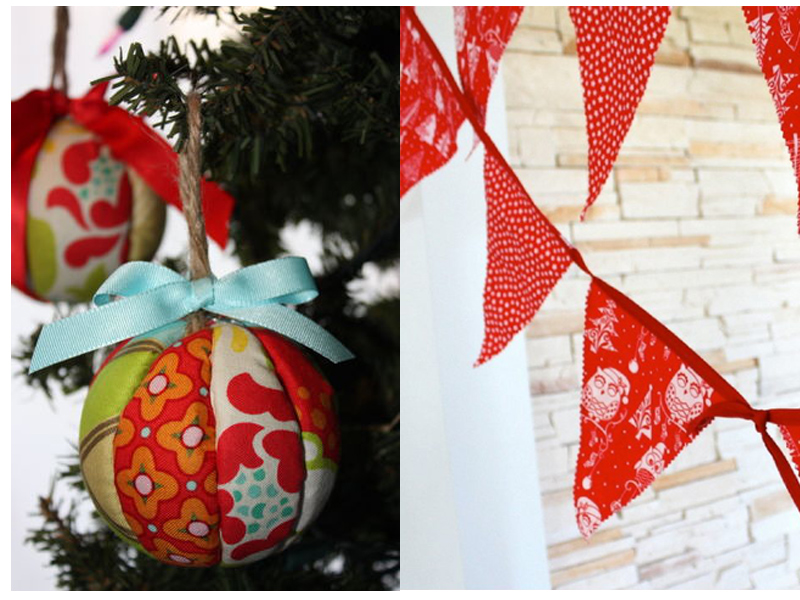 Has anyone put their decorations up yet? For me, even though I love Christmas, it's way too early. I've seen a few photos on the old Instagram of trees already decorated. But it's definitely not too early to start making a few homemade decorations. The Crafty Mummy has a super simple tutorial for a length of bunting. You know me, bunting for every single season, holiday and celebration! Hooray for bunting! These fabric baubles are lovely and use the tiniest scraps of fabric.
Any other baking fans out there? There's no reason your kitchen should be left out from receiving a festive touch. Especially if you're the one that enjoys spending time cooking up festive treats. This apron is really simple to make (I made it in about an hour) and uses 1 fat quarter for the main body. It suggests using half a meter for the bottom band and waist tie but you could easily piece that together out of a couple of different fat quarters. I used some leftover fabric from the boxes to make mine. If you want to keep food covered I'm am totally loving this bowl cover, great for transporting food if you're contributing to the table as we usually do on Boxing Day. Everyone brings something to my parents house and tucks in. Lovely!
Tis the season for gift giving, and I love the idea of making some little fabric gift bags to hold smaller items. I enjoy making edible gifts most years and this would be a lovely way to present them. Just make sure you put the treats in a cellophane bag first to keep them and the bag clean. Stockings are in no way just for children, in my mind they should be for every member of the family. A handmade stocking full of little gifts would be a lovely thing to wake up to on Christmas morning.
A homemade fabric advent calendar will last a life time and there are loads of tutorials out there. This calendar doesn't come with instructions but I reckon it'd be fairly easy to put together by sewing 6 squares of fabric into strips, hemming the edges then top-stitching them to a large piece of canvas and adding some decorative trim. I love the idea of this reading pillow for the little ones. You could also include new festive pyjamas, a sweet treat as well as a book or a family movie to watch on Christmas Eve.
Well I don't know about you but I am feeling well and truly festive after putting this list together. Bring it on!