Gemma received the Classic box in February and used her 2.5m of fruity print cotton poplin to make a gorgeous Bardon Dress from Peppermint Magazine
The fabric in February's box sparked such joy when I unwrapped it, what a way to brighten a day! I love the colourful, bright, fruity print, it really made me think of summer days and cocktails, and I wanted to make something that fit exactly into that scenario.
It is such a cute print and just the kind of thing I would go for. I do like that it is on a dark background, as I feel that gives it a slightly more grown up vibe than you may instantly think when given a fruit print!
As it's a cotton poplin, I knew I would have no trouble working with it, and that there were so many possibilities for what I could make. Despite it actually being 0 degrees when I received this box, I really wanted to make a summer dress, to give me hope for when it will eventually be warm enough for me to wear it, and decided to make the latest sewing pattern from Peppermint Magazine – The Bardon Dress.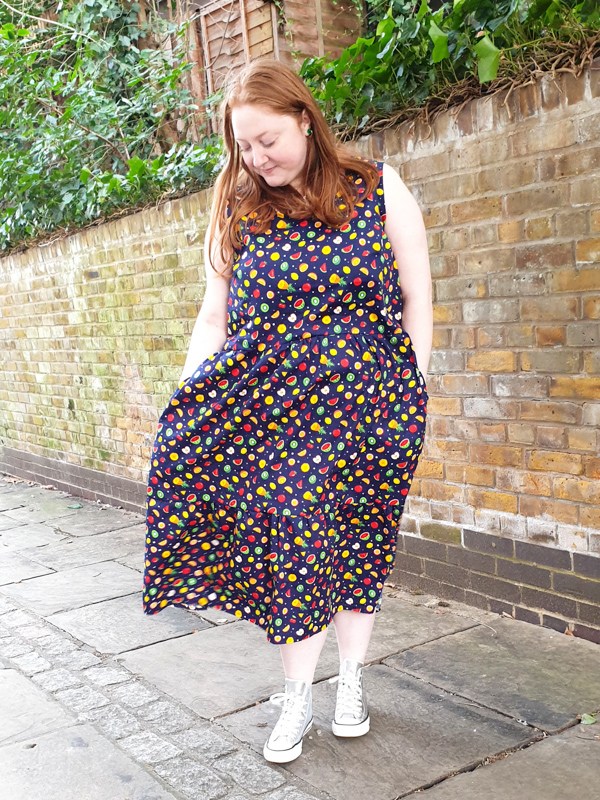 Created in collaboration with Lauren Boyle of Elbe Textiles, this dress ticks all the boxes for being a summer friendly make: a simple, sleeveless bodice, light and floaty tiered skirt and best of all, pockets! It is such a versatile pattern as it can be made in a range of fabric – as long as it has a little drape and can gather for the skirt, it will work. The best thing is it is a free pattern in a range of sizes available to download on their website, so great if you are a beginner looking to start off with something easy!
I didn't expect this pattern to be such a breeze to make, but it was, and I had it whipped up in a couple of hours! Sticking together a pdf is usually my least favourite part of sewing, but thanks to a handy tip shared with me by Esther (cut the corners of your page to line them up!) it made a tedious job bearable, and cutting out the pattern pieces even quicker.
I did have to make a few slight adjustments to get it to fit on my fabric: I cut out the back bodice as two pieces and joined them rather than cut on the fold, but as it is such a busy print (and I cant see the back!) this doesn't bother me. I also had to lose a little of the width of the bottom tier, as the fabric isn't wide enough – so I just cut it the width of the fabric. Again, not too much of an issue, just meant there wasn't as much gathering as in the pattern, but you really can't tell!
The trickiest part I would say is using bias binding to finish the neckline and armholes, but that really isn't as hard as I make it sound. To create the dress you make the bodice, and then gather and attach your tiered skirt pieces (after adding pockets) – it really is that simple!
I recommend hemming your bottom tier before adding to your skirt depending on the fabric you are using, as that is quite a big hem to get around! Other than that I can't find fault or praise this pattern and fabric enough – this style of dress is going to be on trend again this year, so if you want a simple and amazing looking make this pattern is definitely the one!
I also recommend checking out some of the other free Peppermint Patterns, as they have some really good ones. I've made the jumpsuit before, and have my eye on a few others – it's a great way to try different styles while building a basic wardrobe!
I am so glad I picked this pattern for the fabric, as I think it looks fruitily fabulous! It is a great summer make – comfortable and light, with lots of room, and let's not forget: pockets! This is everything I love about a dress and I can't wait to make some more. It does take a bit of fabric due to the size of the tiers for the gathering, but after my recent forays into colour/pattern/fabric blocking, I'm thinking – could a pattern clash or colour blocked style work?? Oh the possibilities! Now all I need is some sun and a cocktail somewhere nice…