A Moment Of Monochrome: Inspiration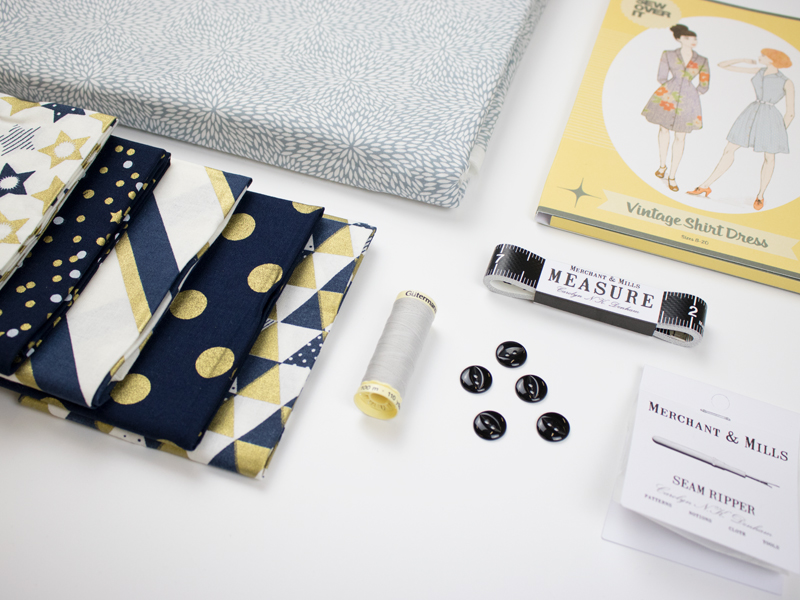 It's that time of the month again, where I get to spend a glorious few hours browsing all the gorgeous patterns and dreaming up lovely new garments!
Unfortunately leaning over a cutting table and squeezing myself behind a sewing machine hasn't been happening much lately. In fact today is my official due date, although I'm writing this a week in advance so we shall have to see if the newest member of SewHayleyJane has made an appearance yet.
But at least I can enjoy sewing through all of you, thank goodness for social media!
I've rounded up a few pattern ideas for the fabrics and fat quarters from this months boxes. I hope you find something to inspire you if you haven't already decided what to do with your goodies.
Mini And Classic, Georgette
First up, that georgette would make a gorgeously slinky pair of Fifi Pyjamas from Tilly and the Buttons. If you subscribe to the Mini box and only have one meter to play with, you could use it to make the top and then make the shorts in a contrasting fabric.
Simple Sew's Peter Pan Blouse is a gorgeous, easy to wear style that buttons up the back and is meant to be beautifully floaty.
Italian pattern company Di Nuvole Di Cuori brings us the gorgeous Greta Top and Dress in both Italian and English instructions. The top features a regular or high neckline and works perfectly with a drapey georgette.
Of course, you could use your fabric to make a beautiful Infinity Scarf to accessorise your outfit such as this one from Tiedyediva.
With a little more fabric you could try the Stella Shirt from Named Clothing. Go careful when it comes to sewing buttonholes in your georgette fabric, check out these tips to help make it a little easier.
The Satsuki dress and top from Victory patterns can be made and worn with either a loose, draped fit or with a sash to hug your waist. You can also had a flirty detail with peek-a-boo shoulders.
From Sew Over It the Anderson Blouse is a wrap front, feminine blouse which gathers at the shoulders to create shape instead of using darts.
The Colette Tunic Top from Tessuti Fabrics is a casual loose fit style with raglan sleeves and a gathered centre front panel.
Luxury, Cotton Lawn
For that gorgeous cotton lawn there are so many possibilities, why not try the Isca Shirt Dress from Marilla Walker which can be made as a shirt dress, or a semi-fitted loose wrap dress.
If you fancy swanning around the house in something a bit more luxurious then a towelling dressing gown you might like the Suki Kimono from Helen's Closet.
Megan Neilsen's Matilda dress is a fabulous utility style shirt dress with princess seams, drop shoulders and an A line skirt.
Finally, the Reggie Dress by Seamwork is a classic woven wrap dress with a slight empire waist and full gathered skirt. Perfect for a casual look.
Fat Quarters
I absolutely love love love these fat quarters, both the colours and the prints. I think they will work fro so many projects but here are a few to get you started.
Whilst this isn't a tutorial or pattern I saw these boarder print towels on .House. of A La Mode and thought they looked pretty easy to do by creating a few long strips of patchwork, folding in half, pressing in the edges and then sewing them along the edge of the towel, love the effect
These little fabric trays by Craftiness Is Not Optional are perfect for holding little items like jewellery or keys.
It's been a while since I wore a hair scrunchie but I think they'd look pretty sweet made out of those fat quarters. Try this tutorial by Sew Your Hart Out.
Finally if you are into photography at all and use a point and shoot camera then this little camera cozy from Mommy By Day Crafter By Night would be a great way to keep it safe.
As always, please do post on Facebook or on Instagram using the hashtag #sewhayleyjanemakes with your creations as I really love to see them.